Social mentions are an efficient way to know about the audience who are talking about your brand online. It's crucial to monitor them as positive social mentions can generate new customers and greater revenue. Similarly, negative social mentions can give you a brief idea about your brand/service loopholes. So, in this guide, we will learn how to track social mentions of your brand.
With quick responses to social mentions, you can build trust and loyalty among customers, especially those who engage with you regularly. So, put simply, monitoring social mentions can benefit your brand's social media presence and augment its reputation.
With such benefits, you must be curious to know more about social mentions and the way to track them. That's why we have curated this comprehensive guide to help you out.
In this guide, you will learn:
What are social mentions?
Why are social mentions important?
How to track social mentions?
Quick tips on how you can respond to social mentions
So, let's begin:
What Do You Mean By Social Mentions?
Clear from its name; social mentions mean when someone talks about your brand/company on social media platforms. This can be any social media platform, including the popular ones like:
Facebook
Twitter
Instagram
LinkedIn
Reddit
Pinterest, etc
Social mentions are an informative metric that helps online brands to know about their visibility. It consists of a particular keyword that connects to your business/brand. Social mentions are the main objective behind building a strong social media presence.
Note that it's not necessary that you will always get a social media mention for your brand. Sometimes, you might get no mentions at all! However, once you develop a loop of positive feedback, your brand can flourish overnight.
Social media mentions can also have branded hashtags along with them. You can get social media mentions, even if you are not available on that platform.
To understand this with an example, look at the image below: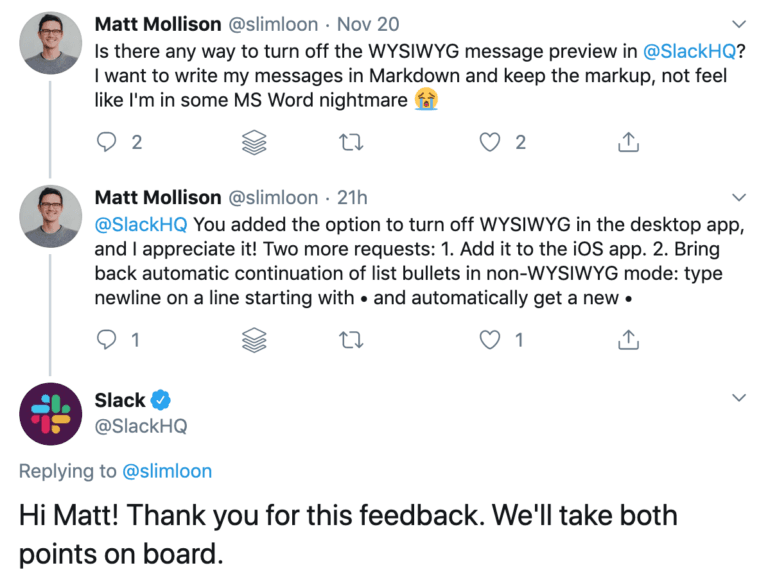 Could you see how a user has mentioned a problem with the brand SlackHQ? They have also mentioned the brand itself and shared a few feedbacks. That's a social mention. With the help of this mention, SlackHQ can get an insight into how they could improve their services.
Why are Social Media Mentions Important?
Social media mentions act as a versatile market campaign tool for your brand. If you target the right audience, social media mentions can turn users into potential customers. They are also important because:
Brand Awareness: When a brand has a good reputation, customers gain confidence to purchase from them. As social media mentions involve users spreading the word about your brand, it ultimately contributes brand awareness. In short, it's the perfect enabler for business recognition and works as a customer magnet.
Good Source of Customer Support: When anyone mentions your brand, and you respond, it turns out to be efficient customer support. Users like to share and talk about things on social media. If things go right, they can share your response on their own account. Moving forward, it might help you to generate more new customers/users.
Happy Customers: Social mentions help you to give quick responses. When a brand responds to a customer instantly, it shows that they are watching and listening. It also shows that they care about the customers. Put simply, customers feel heard, and that ensures a large number of happy customers.
Customer Insights: Social mentions are also important because they can help you access relevant information about your marketing strategies. It can tell you about the genuine perception of customers about your brand. Later on, you can use this feedback for your brand growth.
Higher customer satisfaction survey scores: Happy and satisfied customers are likely to be generous with their scores during customer satisfaction surveys. Customer satisfaction surveys are questionnaires that brands design to understand the customer's perception of their services.
When your brand gets higher scores in such surveys, it means you are a genuine and reliable name in the industry. With regular activity and immediate responses, social mentions can help you get high survey scores.
How to Track Social Mentions of your Brand?
Now that you know about the importance of social media mentions let's learn how to track them easily. Here, we will mention two methods:
Branded Hashtags
Social Mentions Tracking tools
Make sure to select the method that's feasible for you and move forward with the same.
1. Branded Hashtags
Branded hashtags are custom hashtags that relate to your brand/services. It could be anything, starting from your brand name to slogans. All you have to do is select a phrase/term for your brand and add a hashtag before it. There, you have your branded hashtag!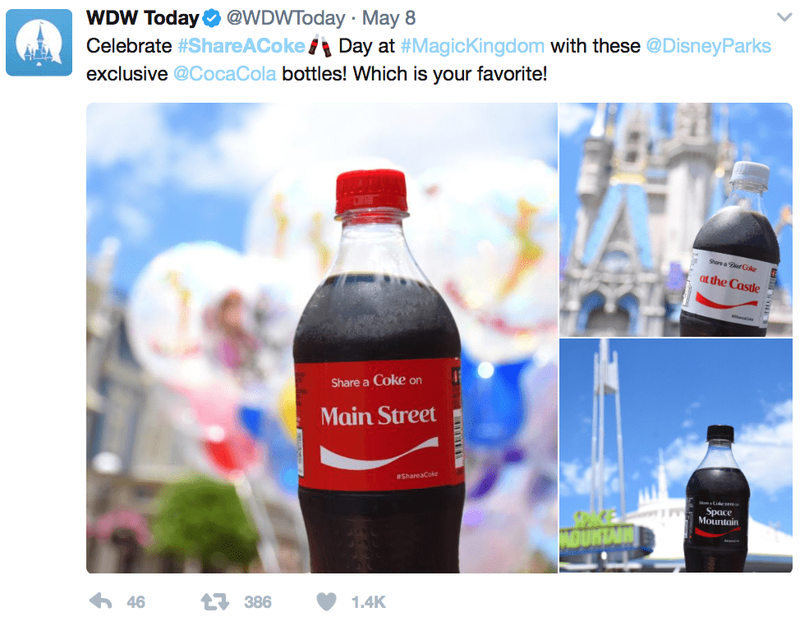 For example, check out this hashtag by Coke. The popular brand came up with a hashtag campaign called #ShareACoke. It drove a higher number of sales and generated extensive user-generated posts on social media. Besides that, if you click on the hashtag, it would directly show you user-generated posts that have mentioned this hashtag. So, the term #ShareACoke is their branded hashtag.
Branded hashtags are also useful for:
Gaining brand awareness
Building a community,
Boost SEO
Target specific audience, etc.
Make sure to keep the hashtags simple and specific, or else it will become harder for your customers to remember.
2. Social Mention Tracking Tool
Branded hashtags do not work sometimes. That's because some people might use your hashtags just to gain recognition. In that case, you might get confused about whether the feedback or mentions are genuine or not. Thus, to track genuine social mentions for your brand, it's best to choose a social mention tracking tool like Backlink.Watch.
Backlink.Watch is one of the best tools where you can track social mentions for renowned social media platforms. It can easily discover the user and influencers who are talking about your brand. Backlink.Watch offers real-time data on your social mentions so that you can analyze them later and make informed decisions. It's also useful to help your brand achieve maximum engagement and higher sales.
Features of Backlink.Watch
More than Just Mentions: Backlink.Watch isn't limited to social mentions alone. It shows other insights like reach, impressions, and the latest mention.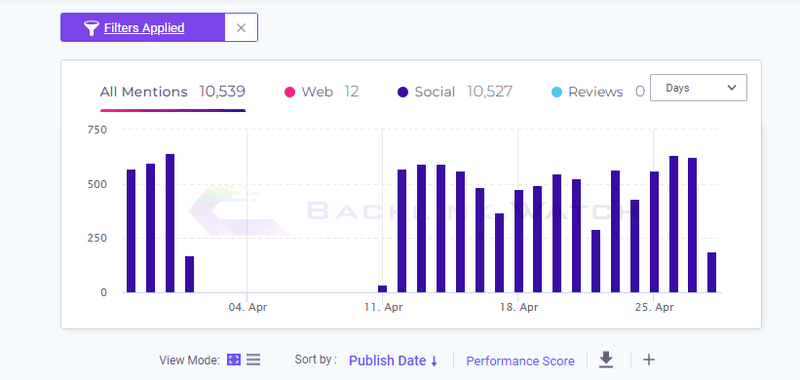 Multiple Social Media Platform Support: With this tool, you can look for mentions on all popular social media platforms like Twitter, Facebook, Instagram, and Reddit.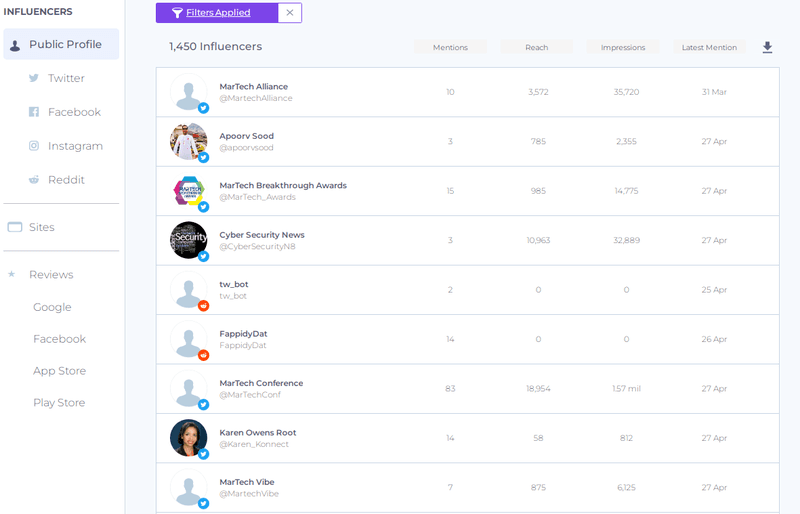 Analytics for Insight: It generates a detailed graph as per mentions, interactions, shares, and likes. You can sort all mentions as per days, weeks, months, quarters, or even years.
Suitable for All!: Besides social mentions, you can also look for brand mentions on websites or review sections. This includes Google reviews, Facebook reviews, and App Store/Play Store reviews.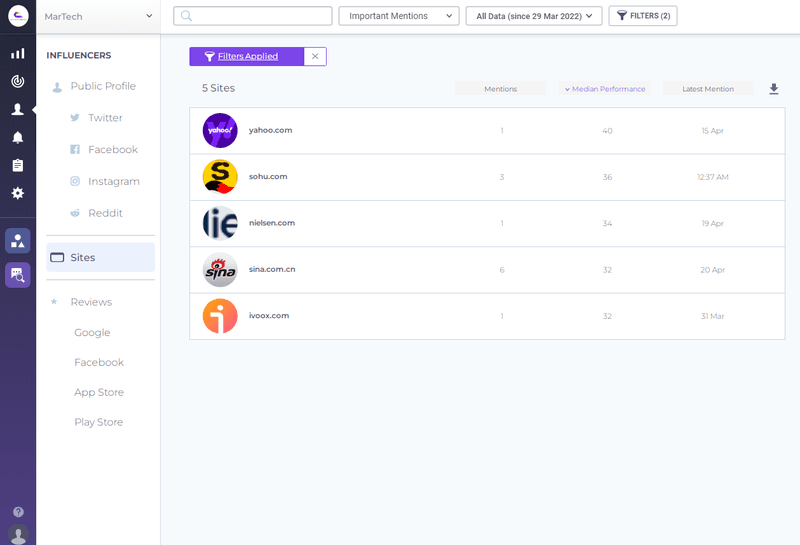 Smart Alert: It comes with a smart alert option that instantly notifies you when any new mentions are found. This feature can help you satisfy your customers with immediate responses.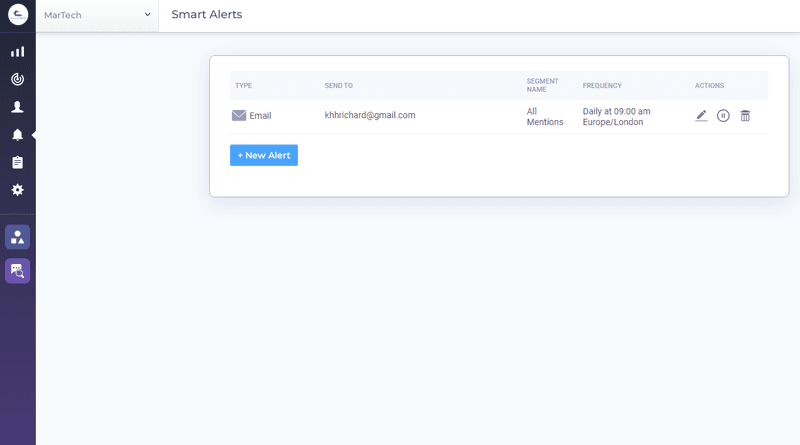 How to Use Backlink.Watch?
Backlink.Watch has a simple user interface. You can get detailed data on your social mentions in just a few clicks. All you have to do is sign up and log in with your credentials. Once done, follow these steps:
Start a new project. You can navigate to the Project Settings to personalize your project's setup. Make sure you add keywords, sources, languages/countries, and other information, as asked.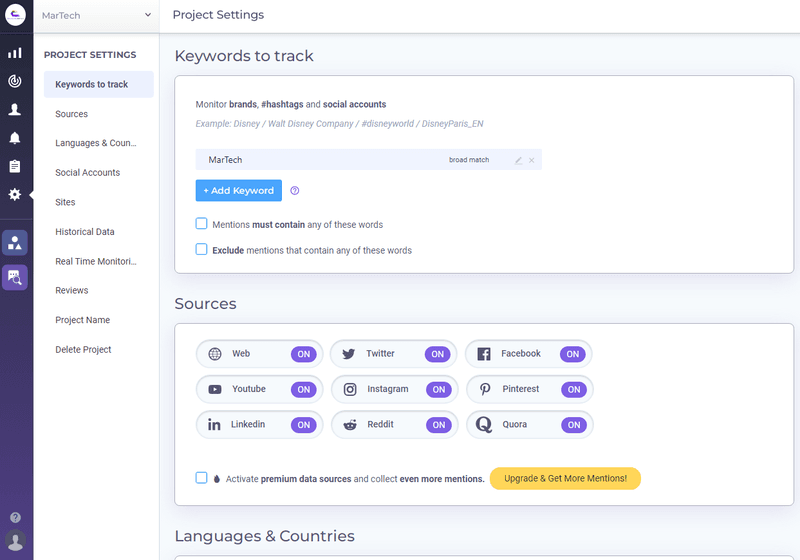 After that, click on the mention option (circular coil-like sign) located in the left corner. The tool will list all mentions of your brand.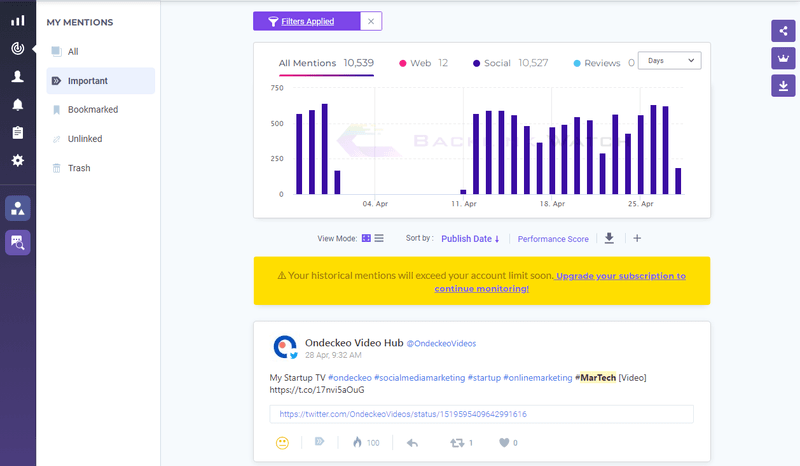 If you want specific social mentions, say for Twitter handles. Go to filters and click on "Twitter followers" and then "Save." You can adjust the filters as per your requirement.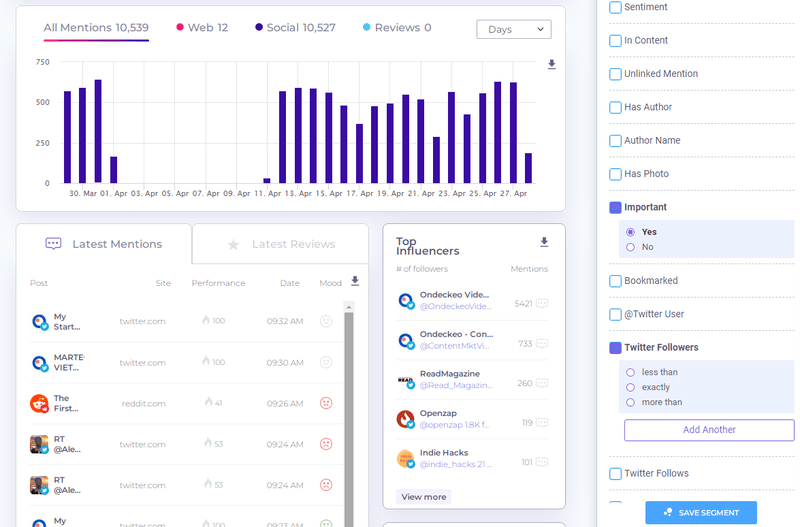 You can also search for any other brand, topic, or keyword by clicking on the "Quick Research" option (finder sign). Simply click on it and type the term inside the finder. You can adjust the settings as per the last 24 hours, week, or month. All in all, it's your one-stop solution to track all brand mentions online.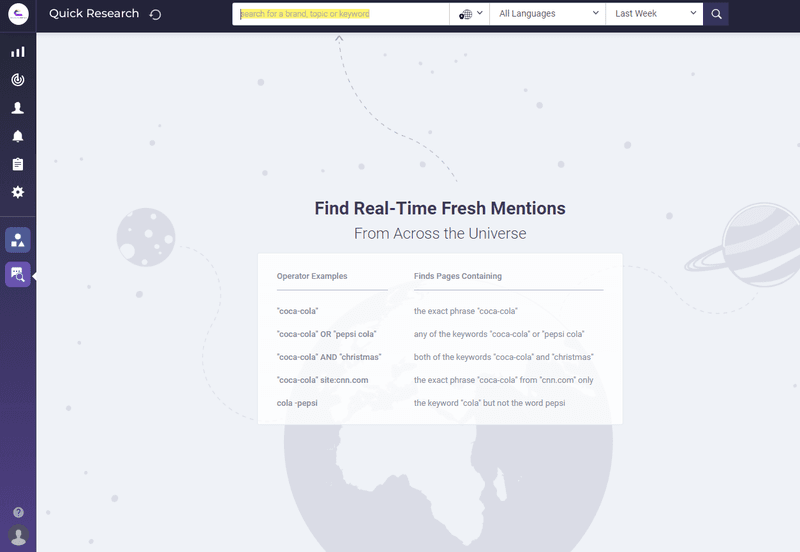 How to Respond to Your Social Mentions?
In addition to tracking social media mentions, it's important to respond to your customers genuinely. As mentioned earlier, social mentions can be both positive and negative. But, if you handle these reviews correctly, even negative feedback wouldn't hamper your brand image. Here are some useful tips to help you with your social mention response
Be Quick and Public: Always be quick and polite with your customer reviews. If the customer has negative feedback or an issue with your product, move the conversation to private.
However, make sure to mention publicly that you have messaged or emailed them for further discussion. You can also ask the customers to DM their email addresses. Just like what Grammarly did in the below image.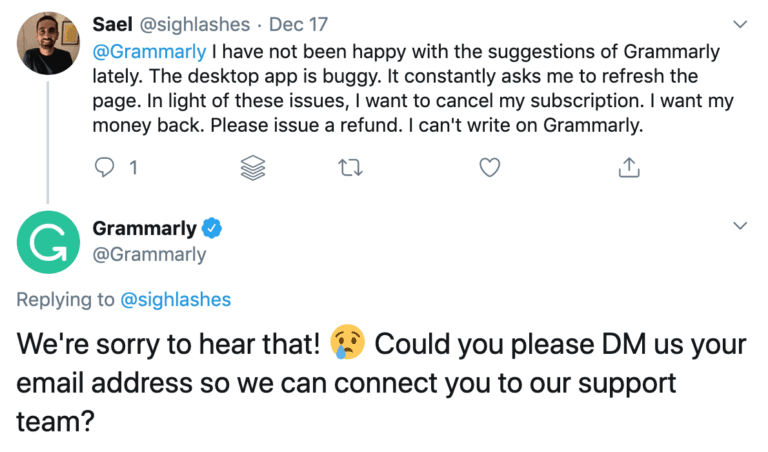 Stay Positive and Respectful: If a customer is happy with your brand, show your gratitude and thank them for their valuable words. On the other hand, if you get any negative feedback, apologize and assure them that it will not repeat again. Make sure to be positive in both the responses.
Respond to all Mentions: Missing a social mention is the last thing you would want while responding to the same. Be it good or bad, take the initiative to reply to all the brand mentions. It's best to double-check once you are done responding to all.
Here are some don'ts while responding to social mentions
Do not use any inappropriate words while dealing with your customer.
Avoid any argument or bad behaviour
Do not post the same response for all customers.
Never ask any customer to remove their review or mentions.
Do not respond more than twice.
Track Your Social Mentions with Backlink.Watch
Tracking your social mentions is important as it keeps your brand ahead of the rat race. We recommend you to use the Backlink.Watch tool for your social mentions. Its easy user interface with in-depth insights can help your brand to grow and thrive in the industry. Enrol for a free trial today!